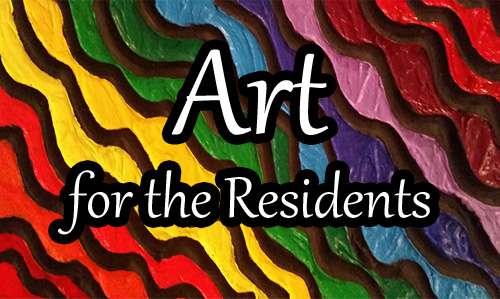 "Art for the Residents" Purpose
To spread kindness and bring joy to the residents of nursing homes and assisted living care facility's during the Covid-19 pandemic.
How it Works
Currently 5 local Kansas City Care Facility's are participating in this program in 2020.
To Participate- Click on the Sign Up Genius button & pick a Participating Care Facility & a Month.
Plan to donate 4 to 5 pieces of your art- depending on how many Friday's are in the month you Sign Up for.
Place a Note on each piece of art saying "Free Art" Click HERE to download an Example Note to Use. You can update the Example Note or create your own. (An example picture is shown at the bottom of this page, ziplock bags work well, but tape is fine.
You may also include your Artist Card with each piece of art.
On a separate piece of paper provide your Name and Mobile Phone # for the Facility Activity Director.
Mail or Deliver your art to the facility in care of the 'Facility Activity Director' prior to the 1st day of the month you Sign Up for. For Contactless Delivery, place your art outside the Main Entrance and call the Main # of the Facility (please do this during normal business hours) and the staff will pick up your art and take it to the Facility Activity Director.
Each Friday of the Month- a Facility Staff member will set out a piece of your art for an un-expecting resident to FIND & KEEP! You will be provided a picture of your art every Friday via the Mobile # you provided. You may post the pictures to your SM to show your support. (Posting on SM is optional and no residents will be in the pictures)
Once you Sign Up you will be provided a confirmation email. Thank you for your interest and support. I hopes this kindness spreads!
Be Sure to check out the FAQs listed below!
What is Accepted

Original Art & Prints. 2D art only. No nudity, skulls, bones or religious art.
The Story Behind "Art for the Residents"
Artist Haley Sellmeyer participates in "Free Art Friday Kansas City" During the Covid-19 pandemic Haley watched a news segment on care facility residents having limited contact with people and their loved one's. Haley thought this was sad and wanted to do something to bring joy to the residents so she created the "Art for the Residents" Program.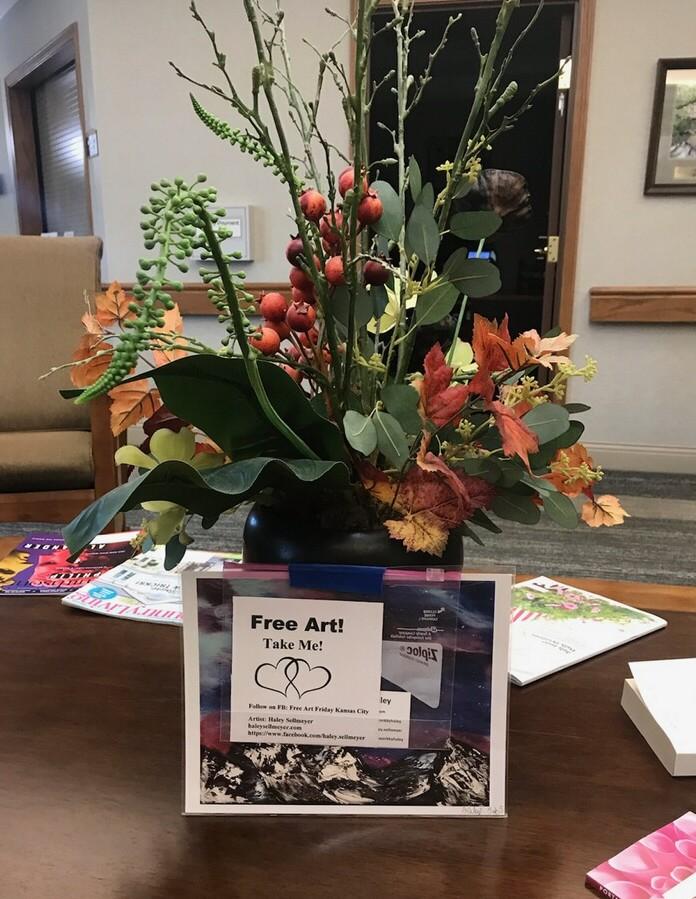 FAQs
Can I sign up for more than one month? YES! Sign up for as many months as you like.
I'm not local to KC but can I still participate? YES! Just follow the instructions above & mail your art directly to the Participating Care Facility.
Will Art for the Residents continue past 2020? We hope so! It depends on the amount of participating artists in 2020
How long has this program been running? Since the 1st week of July in 2020
How can a Care Facility become a Participating Care Facility in this program? Contact ME!
I'm not an artist. How can I support this program? Purchase art from any local KC Artist & ask them to deliver the art to the Care Facility for you! If you don't know any local KC Artists I would be happy to provide you several referrals.
You will be allowed to provide a Business Card with each piece of art & a mobile phone # The Care Facility will text you a picture of the art every Friday so you can share it out on your SM to show your support!
You could also ask a local KC Art Gallery to do the same. I can provide you referrals for those too! Just Contact ME!
Sign Up & put in the commits "Donated by [your name] or [your business name]"
When will more Participating Care Facility's be added? When the Sign Up is almost full.
Do I need to provide pictures of my art? No, just provide quality art you think the residents will enjoy and follow the Acceptable Guidelines outlined above.
How big should the artwork be? 16"x20" or smaller so the residents can keep them in their room. 12x16, 11x14, 8x10, 5x7 or 6x6s are perfect sizes.
Can I donate all Prints? YES! All prints, all originals or a combination of both is fine.
I own an Art Gallery. How can I participate? Work with your artists to collect enough artwork to donate and Sign Up for a month. Put in the commits section of the Sign Up "Donated by [your art gallery name] and [list each artists name]" Then mail or deliver your artists works. It is acceptable for Art Gallery's to include their business card with each piece of artwork.
Can my donation be a tax write off? I would assume so, but advise your tax person.
I have a different question. How can I get my question answered? Contact ME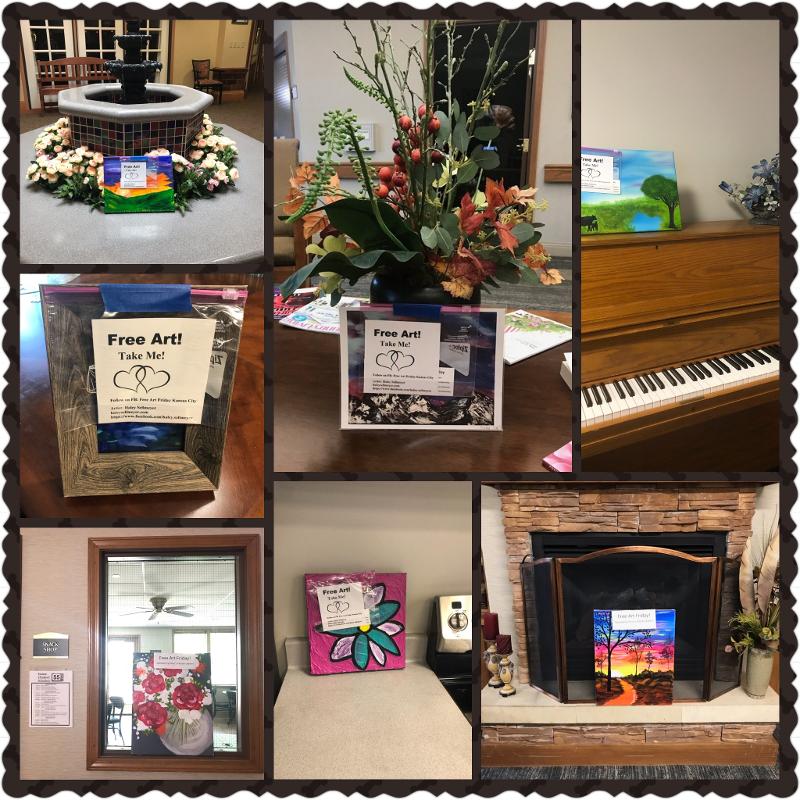 Testimonials:
From the Cedar Lake Village Care Facility- Activity Director Chi Ann:
"Art for Residents" has been a true blessing to our community. With the difficult times of COVID it is nice having an additional way to put a smile on a Residents face. It is great that each and every Friday another Resident gets to take home a beautiful piece of artwork. Haley puts her heart and soul into her art and it is very evident. She also clearly has a passion for making others happy and "Art for Residents" is the perfect way to do that! It is a beautiful thing when a passion meets a purpose.
From the Good Samaritan Society of Olathe- Activity Directory Ashley Sullins:
Our residents here at Good Sam have absolutely loved Free Art Friday's! They are so excited to find the art placed around the facility. It's been really hard on them these last 6+ months and seeing their smiles and joy that they have received from this art is priceless. A special thank you to Haley for getting this organized & to all the other local artists that have donated their beautiful art for our residents. Thank you! You have really blessed them more than you will ever know!