2019 Art Class Schedule- Vault Studio's Inc- Buckner, MO
Classes will include all materials, a treat and a game! To a register for a class visit the Vault Studio website.
Purpose: To teach painting and painting techniques in a fun, creative environment that is instructor lead by Haley Sellmeyer with hands on experience for the participants.
Target audience: Children 5 and over, children under 5 with guardian assistance, teenagers, beginner adults and elderly participants.

Location: Vault Studio's Inc. 333 S Hudson St, Buckner, MO 64016
Time: 10am - 12pm
Class Schedule: Next class- Sat. March 23rd
Next class will be a Snowman Painting. "Let it Snow"
Teaching: Acrylic paint on canvas, a blending technique, the use of an extender and paint pens, how to create snow with shadows, how to create a snowman and how to create a winter sky with falling snow.
Product: Participants will create a completed painting
Materials provided: 1 11x14 canvas for each participant, acrylic paint, paint pens and an extender medium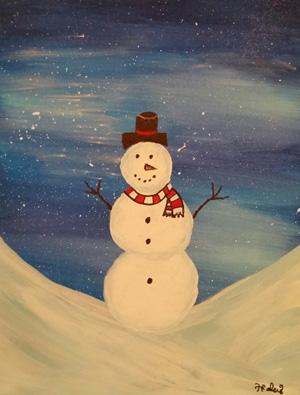 acrylic painting, art, art for sale, art tutorials, artwork, artwork by haley, buy art, coffee cup art, gallery, heart art, how to paint, oil painting, painting, painting tutorials, paintings
haley Sellmeyer acrylic painting art art for sale art tutorials artwork artwork by haley buy art coffee cup art gallery heart art how to paint,oil painting painting painting tutorials paintings haley Sellmeyer acrylic painting art art for sale art tutorials artwork artwork by haley buy art coffee cup art gallery heart art how to paint,oil painting painting painting tutorials paintings haley Sellmeyer acrylic painting art art for sale art tutorials artwork artwork by haley buy art coffee cup art gallery heart art how to paint,oil painting painting painting tutorials paintings haley Sellmeyer acrylic painting art art for sale art tutorials artwork artwork by haley buy art coffee cup art gallery heart art how to paint,oil painting painting painting tutorials paintings haley Sellmeyer acrylic painting art art for sale art tutorials artwork artwork by haley buy art coffee cup art gallery heart art how to paint,oil painting painting painting tutorials paintings haley Sellmeyer acrylic painting art art for sale art tutorials artwork artwork by haley buy art coffee cup art gallery heart art how to paint,oil painting painting painting tutorials paintings haley Sellmeyer acrylic painting art art for sale art tutorials artwork artwork by haley buy art coffee cup art gallery heart art how to paint,oil painting painting painting tutorials paintings haley Sellmeyer acrylic painting art art for sale art tutorials artwork