2018 Art Class Schedule I am teaching at Vault Studio's
Classes will include all materials, a treat and a game! To a register for a class visit the Vault Studio website.
Purpose: To teach painting and painting techniques in a fun, creative environment that is instructor lead by Haley Sellmeyer with hands on experience for the participants.
Target audience: Children 5 and over, children under 5 with guardian assistance, teenagers, beginner adults and elderly participants.

Location: Vault Studio's Inc. 333 S Hudson St, Buckner, MO 64016
Time: 10am - 12pm
Class Schedule:
July 14th 2018 - Beach Scene Painting
Teaching: Acrylic painting on canvas, how to blend and mix color, how to create a sky, ocean, beach and a palm tree
Product: Participants will create a completed painting
Materials provided: 1 11x14 canvas for each participant and acrylic paint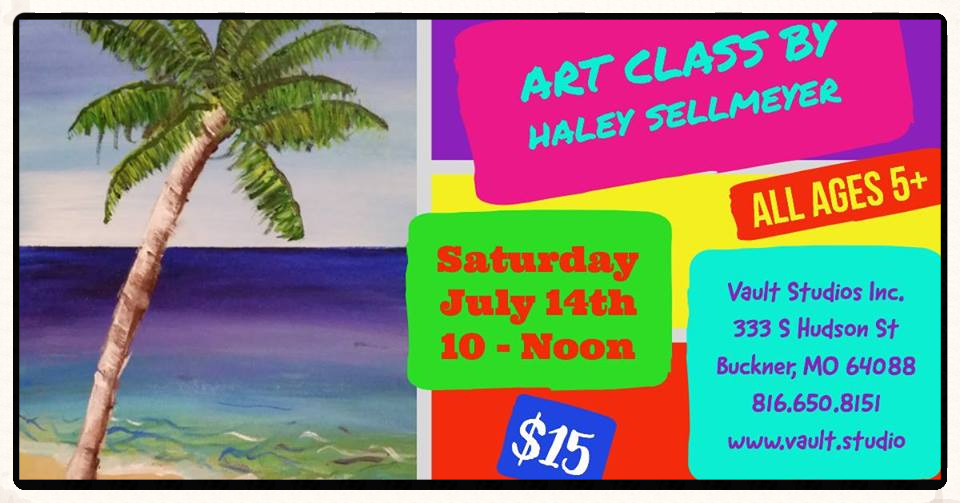 October 13th 2018 - A Silhouette Painting (Haunted House)
Teaching: Acrylic paint on canvas, a blending technique, how to create a silhouette, how to paint a haunted house, a tree and bats, and how to thin acrylic paint for desired effects
Product: Participants will create a completed painting
Materials provided: 1 11x14 canvas for each participant and acrylic